Iran Arrests Terrorist Cell in Tehran Suburb
Author: Leroy Wright

Jun 12, 2017,
Iranian leaders accused the United States and Saudi Arabia on Friday of supporting the dual Islamic State-claimed attacks that killed 17 people in Tehran this week, as thousands of Iranians attended a funeral ceremony for the victims.
The rebuke of the U.S. and Iran's regional rival, Saudi Arabia, came as thousands of mourners chanted "Down with the US" and "Death to Al-Saud" while carrying the coffins of the victims through the streets of Tehran following Friday prayers.
Before a funeral procession at parliament early Friday for guards killed there, Iran's supreme leader said the attacks will add to Iranians' hatred of the United States and Saudi Arabia.
The assaults have further fueled tension between Riyadh and Tehran as they vie for control of the Gulf and influence in the wider Islamic world.
The attacks were the first in Iran claimed by the Islamic State, which has repeatedly threatened Shias, the second largest branch of Islam, a majority in Iran. It was not clear when the five men returned to Iran ahead of Wednesday's attacks.
According to the AFP, in one part of the video, the narrator said, "Iran raised its slogans against the USA and Israel to deceive the Sunnis, while Iranian Jews live safely in Iran under its protection, and it has provided them with temples and churches as seen in Tehran and Isfahan". Saudi Arabia dismissed the accusation.
In another tweet, Zarif also addressed the contradictory comments by US President Donald Trump over the twin attacks in Tehran, saying, "Repugnant WH statement & Senate sanctions as Iranians counter terror backed by US clients".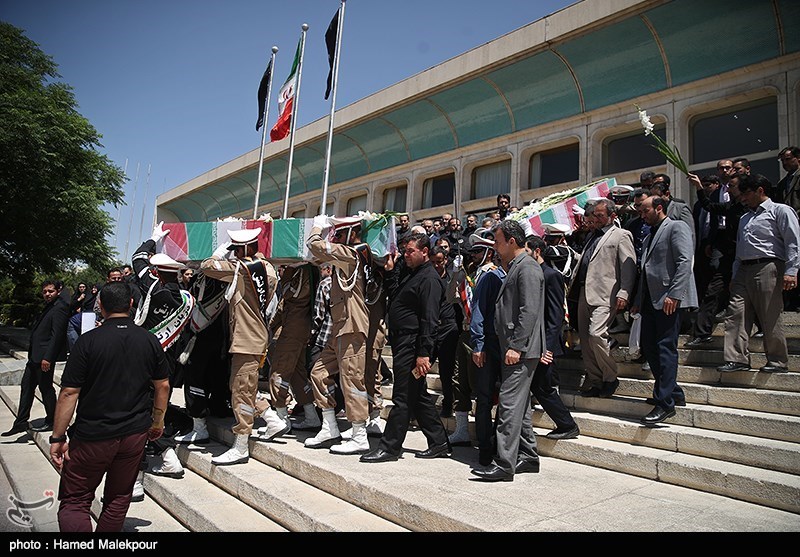 Security camera footage aired on state TV showed people running and seeking cover as the gunmen strode through parliament's halls, firing their weapons and hitting at least one person. "This brigade will mark the start of jihad in Iran, and we call on our Muslim brothers to join us".
"Iranian people reject such USA claims of friendship", he said, hinting in the tweet that the terror attacks were "backed by US clients".
"The five known terrorists. after joining the (ISIS) terrorist group, left the country and participated in crimes carried out by this terrorist group in Mosul and Raqqa", said the intelligence ministry in a statement.
"We are focused on intelligence" gathering, he said.
The intelligence ministry also said forces stormed multiple "safe houses" linked to IS in northwest Iran, according to state media.
Although this is the first evidence of an IS presence inside Iran, the government has clashed in the past with both Kurdish Islamic militants and secular Kurdish separatists.
---
---